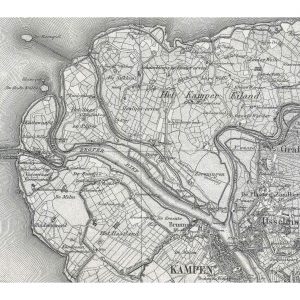 DAYTRIP KAMPEN : CITY AND POLDER
Included:
Morning coffee/tea
Guided walking tour of Kampen historic city-center
Lunch
Transportation from Kampen to Kampereiland by boat
Exploration of the Kampereiland by bike
Visit to a traditional farm or museum farm
Visit to the work studio of professional artist Henrie Vogel
Start : The Plantage, the main square in the historic centre
Price : From 57,50 euro p.p.
Max : 12 persons
Departure : On request.
---
Historic centre
During our walk your local guide will place the history of Kampen in a local, national, and international perspective by pointing out some of Kampen's distinct characteristics. We will explore the historic tower bell, the medieval defense gates, the narrow streets, the many different churches, the Kogge shipyard  and of course the river at which Kampen lies: The Yssel.
Traditional farming on the Kampereiland
After lunch the boat will take us and our bikes to Kampereiland across the Yssel. The Kampereiland is the oldest polder of the Netherlands, just outside Kampen. For centuries, Kampereiland has had a strong connection with the city, both as a food supplier and as a source of income – thanks to the rents farmers pay to the city. This specific connection between city and farmers is unique in Holland and even in the world.  On the Kampereiland we will visit a traditional farm or museum farm.
Inspiration
We will also visit the work studio of professional artist Henrie Vogel. Henrie lives and works in a refurbished farm. Juicy meadows and magnificent Dutch skies like you see in the paintings of the 17th century masters dominate the landscape of Kampereiland. The spaciousness, air, and light of the countryside are of influence in Henrie's work and makes this an ideal place to paint. Henrie will show you around in his studio, in this inspirational place.
PHOTO GALLERY